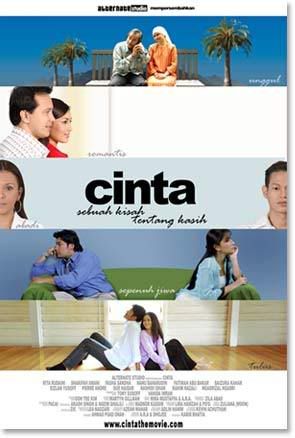 I don't like to watch Malay film at cinemas but this time, since my friends already bought the ticket while I'm still sleeping, I have to go and watch it. I've read others' review about this movie and I set in my mind, its gonna be worth it. I would like to encourage those who are in love with someone or having trouble with your relationship.. whatever you are in, this is one of the must-see Malay movies this holiday. I guess 'Cicak Man' is my next movie on the list!
It has good plot where somehow it connects all the characters simultaneously. I'm awed with the storyline too.
I'm glad that this time, the corporate style goes around the architecture and design firm, which is familiar to me. I hate where most Malay corporate world talks about business and backstabbing each other.
I guess since it has lots of interesting characters, this movie is kinda honest in reflecting Malay lifestyle and culture.
The 'Rubiah Laksa Shop' is kinda familiar to me. Yeah, it took place in AU2 near my favourite barber shop. But why I didn't notice when the shooting took place?
She said that she sounds stupid in Malay but in this movie, she did good speaking Malays.. Guess who she is?
In some scene in the movies, it really touches my heart. My friend did cry eventhough the movies over. Hehe. Seriously, its touching unless you are not emotional enough to understand these
Thanks to Farah Hana and Johnna Analia for inviting me watching this movie. I wonder when's the next time we're gonna spend time like this together again.