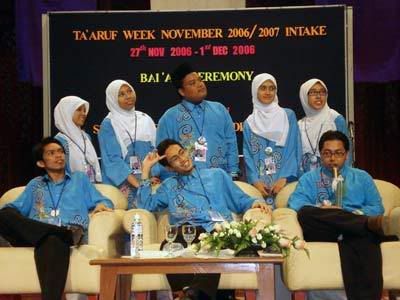 Again, its my third time joining Ta'aruf Week which is better known as 'New Students Orientation Week' to other universities. And this time I've taken the post of the Head Commmittee of Multimedia Bureau. If you've read my previous post about Taaruf, I wish that I'll be working on different bureau. Its just because there's no experienced committee in it, that's why I'm the Head Comm.
The Induction Course for this time took place at Perting Recreational Camp near Bentong, Pahang. 3 days 2 night without clear handphone signal. Sorry to Maxis and Digi
Previously, the introduction of all committees to the students are made by Flashes. But since I'm the head this time, I've changed the tradition and I suggested to create video montage for introducing the committees. Pretty cool huh? Check out my youtube.com for some examples.
It's the first time I've put interactive e-backdrop. Besides having the analog style flash clock, there's one space where students can send their SMS to be appeared on screen. Just like tag box. More than 100 SMSs received through out this week. I put the taggy because I know the new students might be bored during the intervals and that's how they can have some fun besides criticizing us!
Again, I've bring the revolution in the Operation Room (OR) where it is another Wifi Hotspot in UIA. Yea.. the next time, just set up the Wireless Router and the OR will become such hotspots. Hehe.. 5 PCs and scattered laptops on the floor
I've enhance my network with the Taaruf family members where most of the new committees are freshies to Taaruf. Nice to know you guys. Hope we can work again next time
Its the most emotionally impact Taaruf program where my bureau got heart ached by other committees. Its hard to take care of other's feeling but we've tried our best. Since the Taaruf is over, I hope we still can have a good feeling towards each other.
This time, I really hope its the last time for me to be in Multimedia Committee. I hope the next time, I can be in other challenging bureau because I need something to brush up my public relation skills as well as communication skills.

P/S - I've wondered why I don't update my blog eventhough there's Internet in the OR?