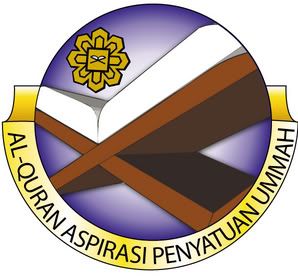 I've designed the logo for Musabaqah
BTN which stands for Biro Tatanegara is pre-requisite for graduate in UIA. Yeah, there's lots of stuff that students should settle in order to grad from this university.
I'm attending BTN on Sunday 13th August with my friend, Farhat and Syakir. The first slot with Bro. Azrinizam, where he talked about the new world order, zionist and all the things regarding to the global politic. Actually, I'm not aware about these because I'm only think that in my field, design field, there's nothing much that related to it.
But, I'm very interested because I know, there's must be something that I should know and I'm attending this program because I wanna get something from it. I don't wanna waste my time just like that otherwise I just can get the attendance slip from the committees because they are all my friends from Taaruf Committee.
In the second slot, Bro. Latif asked some of us to attend the closing ceremony of Musabaqah Tilawah Al-Quran Intervarsity organized by Wawasan Club. They are my neighbour in my operation room. All I can say that, they've done a good job by organizing this event, getting sponsors and putting their club on the map of UIA and even more than that.
The performance part? The nasyid group is my friend's group. Zaki. I knew their group even from matric PJ and they are still going strong with nasyid genre. Accidentally, another friend of mine,
Zaki
(aka Szakif) also performed but in different style. He's performing angklung. Overall, I've spectated angklung performance few times and what can they do in order to improve? I think besides shaking the angklung, they can have some body gestures. Dance to the tune. I bet its gonna be better because performer = artist = should know how to express their feelings. Either angklung or any other music band, the same rules apply!
After that, I had my lunch, prayer and final slot that evening. Its interesting when some students objected the idea of Islam Hadhari with the speaker. I salute the speaker! He manage to answer their question and unveiled our doubt about this vision rationally. By the way, I'm wondering what's the future hold for me?