KAED is one of the kulliyah (faculty) in UIAM, It stands for Kulliyah of Architecture and Environmental Design. In this kulliyah, there are 5 departments consists of:
Architecture (ARCH)

Landscape Architecture (LA)

Applied Arts & Design (AAD)

Urban & Regional Planning (URP)

Quantity Surveying (QS)

In my department, AAD, there are 3 majoring which are Conservation, Industrial Design and Interior Design. I'm majoring in Industrial Design (IDE) and I expect that I'll do designs for products such as furnitures, electrical appliances, packaging, automotive and so on, as long as it doesn't deal with building, mega structures and spaces.
Generally, in UIAM itself, students will judge KAED students as 'busy students' and 'students with their own university' and many more. Why? Because we usually don't take part in any universities programs, competition, clubs, societies etc.. Are we that busy? What am I busy with? Doing projects, sleepless nights and overslept?
From my personal point of view, its more about the student's time management. If you doing your work/project positively with good time management, one still can involve in coccuricular activities. I'm not taking myself as good example, but for me, I've joined AKHI Project. I'm the only KAEDian in this organization. Besides, in Taaruf Week (new students orientation program), there was increment of KAED students that participate as committees. KAED students also have their own annual program which is 'KAED FEST'.
So, its just about time management and self awareness whether you wanted to mix with the campus society. For me, I need to participate because I wanted to expand my network and have lots of friends in UIAM. But, I'll put my priority on my studio project because it will determine my CGPA.
So
Mr. Szakif,
I didn't read that KOSMO!. But do believe me. All design students from all over the world is suffering the same symptom -
busy!
Trust me. Try to ask other design students' blogger such as
Chika
and
Afiq
. Imagine if you are in our shoes..
For coming KAED Fest, I'm the Head Committee for 'Sculpture Competition'. Check out my
weblog
for details of that event.
KAEDians.org
- KAED students community website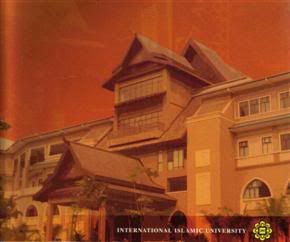 KAED Building