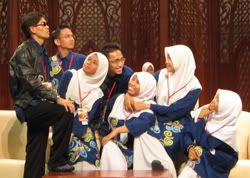 Well, after more than 10 days working as multimedia committee of Taaruf Week, all I wanna conclude here is that, its ROCK! I like working in this TW family, and hope to work with them again.
What have I contributed to this TW this time? TW logo design, 3D stage design, multimedia presentation of committee introduction for 'Multimedia', 'Prep & Tech', and 'Catering' committees, tags design for all committees and staffs, candid pictures during the events and many more. Anyway, I also wanna say thanks to everyone in this family because you guys rocks! I'm gonna miss ya'll.
Eventhough there are some shortcomings regarding the audio system, (its the CAC Main hall technician problem) anyway, I wanna apologize for it. Sorry to the first group of sisters that performed during cultural night! Gomennasai!
There were lots of pretty and nice girls that I wish I wanna flirt with them, but they have my respect because I treat them like older sisters because they are older. Besides, I'm a man that give loyalty as my first priority. So, its better to befriend than nonsense relationship. Pretty freshies also have captured my attention to let me capture their pictures with my cameras.. Hehe..
O yea.. multimedia committees also selling 3 CDs of this TW students' pictures for RM5 including the multimedia presentations. So, ring me if you wanna have one set of it!