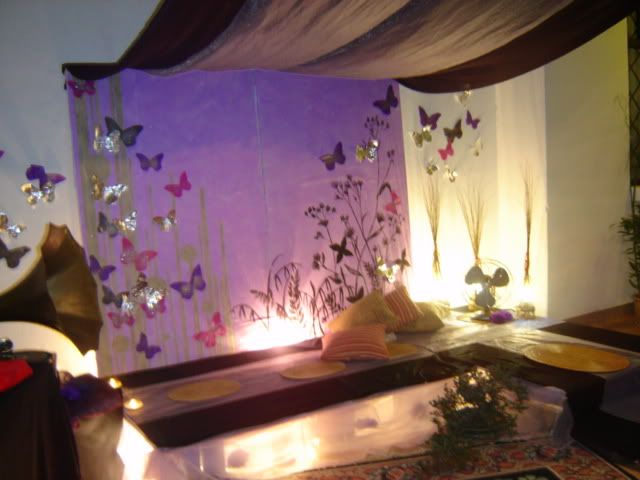 Its off season but we still can feel the spirit of Eidul Fitri that evening. My kulliyah students society held this event as its one of the annual grand event where the main attraction is that, every department will decorate a provided space with the concept of traditional Malay raya house. There were 5 departments from Architecture, Landscape, QS, Town Planning and my Applied Arts.
The wrong thing about our ad hoc design is that we've gone too far from the given concept. Can you imagine? While other departments applied the Raya concept, we've applied the fusion concept of antiques with gradients of purple deck. But lots of students love to take their photograph on the deck because it has the feeling like 'pelamin' in Malay wedding ceremony. Yeah, at least we manage to attract lovey dovey couples to our 'house'.
Besides that, the menu is just same like the menu when I attended Malay wedding ceremony. There was also games such as karaoke and eat-all-you-can contest. I voluntarily joined the karaoke contest and I sang 'Dendang Perantau'. I just forgotten that my favourite Raya song was 'Suasana Hari Raya' from Anuar Zain & Elina. Damn! Anyway, I'm glad my vocal is still on the correct pitch.
P/S - we're having fun that nite but the next day is our studio's presentation day.. :P