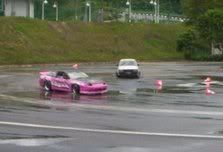 It was Saturday and I was very sleepy because I'm too lazy to finish my assignment. I slept from 330pm to 530pm and I woke up because something alarmed me. It was the revving sound of cars' engines. Why there was such noise inside this campus? Illegal street race? No way, the roads here were way too bumpy! I looked at the window and I guess the sound comes from the stadium. Yea, there's a spacious area and what cars have to do with spacious area? Yea.. its
drifting
I went there as soon as possible with my low-battery digicam to capture some good shots of the cars. I arrived at the helipad in front of the IIUM Kindergarten & Nursery building after 10 minutes walking. It seems that the rain will fall in minutes but I forgot my umbrella because I was very passionate to see the cars. I saw a few students at the drift track(helipad) and some drift cars e.g. Toyota Corolla, Nissan Silvia and Mazda RX-7. One of the guy said that this track(helipad) is good for drifting. I think I never saw helicopter wandering around in this campus and of course its a good track. There's no vehicles had used the track before. They claimed also that this is the first time they performed 'drift show off' inside university campus and its their first event of 2006 calendar year.
I've taken some pictures and video clips. I'll publish them later in my
fotopages
. I also got a chance to be in the Corolla while the drifter was drifting with it. Whoo! I'm a bit dizzy and they have good combination of limbs. Anyway, that Saturday was just a training session for the finale exhibition of Engitex 2006, 'Autoshow' that Sunday.
My previous post about my car and drifting:-
Story of A Car